FOR HONDA ACURA SMSP HYTECH STYLE TRI-Y HEADER 4-2-1 B16 B18 B20 EG EK DC EF DA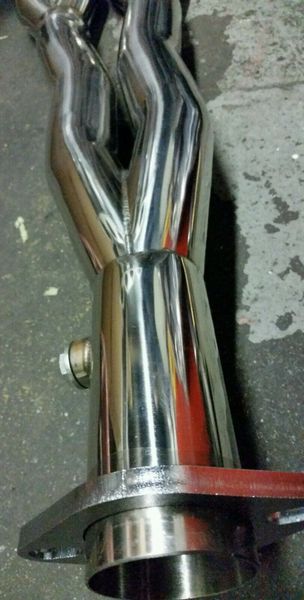 FOR HONDA ACURA SMSP HYTECH STYLE TRI-Y HEADER 4-2-1 B16 B18 B20 EG EK DC EF DA
6 steps are not necessary when making a header.   Specially when these steps can be done in really bad quality with terrible merge collectors and terrible transitions (that will in fact hinder performance). ***Please read the full listing***
We have made our header with smooth flow, ensuring there are the least amount of potential steps to restrict or cause turbulence within the header. 
We are putting up for sale our very own TRI-Y header for the B series engines.
This is made to fit:  
*94-01 Acura Integra GSR/Type-R  
*99-00 Honda Civic Si  
*93-97 Honda Del Sol V-TEC  
*All Honda Acura Cars with B series engines (1.6L to stroked 2.2L B series) 
 **Please note:  These are a Direct Bolt-On Installation but they use a final collector flange of 2.50". 
The flange is not included in this sale. 
*If you are installing these headers on an 88-91 Civic or 90-93 Integra with the factory crossmember, the factory crossmember will need slight modifications or use an aftermarket traction bar.  
* The transmission brace removed or swapped out for slimmer braces like the GSR or the LS brace  
*AC lines may need to be moved on very rare occasions.  
What you will receive: 
1 x HEADER (AS SHOWN IN THE PICTURES) 
1 X HEADER GASKET 
 DESCRIPTION:  
This header is our own design, this is truly a stepped header as shown in the pictures. Feel free to compare. 
This header has been engineered to outperform other headers in the market and DELIVER BETTER GROUND CLEARANCE.  
The Tri-Y design allows for maximum low end torque without sacrificing top end horsepower.  
Our header is a 1 piece design and clears A/C and power steering.  
----SLIM FAN included at buyers request for the A/C users, please note there is an additional fee for the fan, please message us if you require a fan----  
***No oil pan "massaging" or banging required***  
Constructed from stainless steel material  
Specs:  
FLANGE: 0.38"  
PRIMARY: 1.85"  
SECONDARY: 2.238"  
FINAL COLLECTOR: 2.509" 
 "AS STATED BEFORE, THIS IS A TRUE BIG TUBE STEPPED HEADER, please view pictures of the steps" 
*** OFF-ROAD USE ONLY***  If you live in California; you agree to buy this header as an ornament and never mount it on a pollution controlled vehicle that is driven on public Highways. 

Shipping:

Shipping is free within the 48 continental U.S.A.

We do Ship outside of 48 continental states but SHIPPING COSTS MORE. If you are in states such as Alaska, Guam, Hawaii, Puerto Rico, PO Box, APO FPO and other countries outside of the United States of America, please contact us for a shipping quote.

**International buyers are responsible for ALL customs, duty, and import fees. NO EXCEPTIONS! **

Payment:
We Accept paypal but ship only to confirmed addresses on paypal. PLEASE be sure your correct ship to address is on paypal when making a payment.