GT45 TURBO KIT MANIFOLD CHEVY SMALL BLOCK SBC CAMARO GM 305 350 T4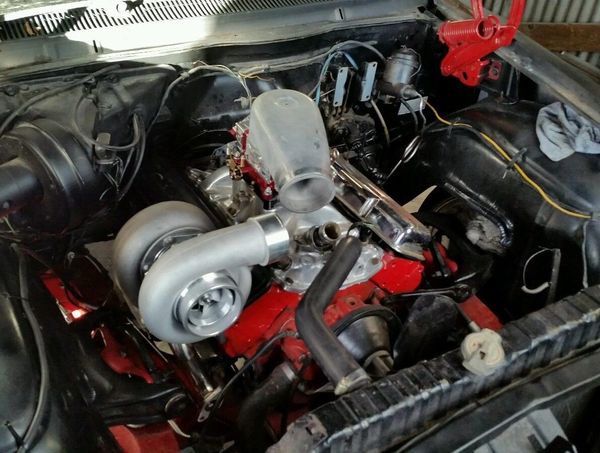 GT45 TURBO KIT MANIFOLD CHEVY SMALL BLOCK SBC CAMARO GM 305 350 T4
GT45 TURBO CHARGER KIT MANIFOLD CHEVY SMALL BLOCK SBC CAMARO 

This listing is for a turbo manifold kit 
*****PLEASE NOTE...welding is required on the V-Clamp that connects the left and right turbo manifolds. This crossover pipe may in some case need to be extended or modified, this is due to the wide range and variety of motor applications the SBC offers. Please be aware, I personally would not like surprises so we wish to be upfront about what needs to be done. Thank you for your comprehension.***** 

Package Includes / What you will receive: 
1 X Stainless Steel Top-Mount Turbo Manifold 
1 X Gaskets and Bolts as shown 

Application WILL NOT FIT WITH ANGLED PLUG HEADS: 
66-75 Chevrolet Bel Air 5.7/ 6.6/ 7.4L V8 
66-72 Chevrolet Biscayne 5.7/ 6.6/ 7.4L V8 
1973 Chevrolet Blazer 5.0/ 5.7/ 7.4L V8 
1973 Chevrolet Brookwood 5.7/ 6.6L V8 
68-75 Chevrolet C-10/ Pickup/ Suburban 5.0/ 5.4/ 5.7/ 6.5/ 6.6/ 7.4L V8 
90-93 Chevrolet C-1500 4.3/ 5.0/ 5.4/ 6.2/ 7.4L V8 
68-75 Chevrolet C-20/ Pickup/ Suburban 5.0/ 5.4/ 5.7/ 6.5/ 6.6/ 7.4L V8 
91-95 Chevrolet C-2500/ Suburban All V8 Models 
1975 Chevy C30 
73-75 Chevrolet C30 Pickup All Models 
88-95 Chevrolet C3500 All Models 
67-72 Chevrolet Camaro All Models 
66-75 Chevrolet Caprice All Models 
67-73 Chevrolet Chevelle All Models 
1968 Chevrolet Chevy II All Models 
66-74 Chevrolet El Camino All Models 
and More 

(ALL Models Above with SBC V8 GAS Single Turbocharged Engine ONLY /  DOES NOT FIT ANGLED PLUG HEADS) 

*No instruction included and Modification such as welding may be needed 
Professional Installation is highly recommended as no instructions are included. 

Specifications: 
*Stainless Steel Exhaust Turbo Manifold 
*High Performance Tubular Racing Design 
*Made of High Quality Polished Stainless Steel 
*Computerized Mandrel-Bent 
*TIG Welded with CNC Machined Flanges 
*38mm/ 35mm External Wastegate Port/Flange Included 
*Standard T4 (T04) Configuration Outlet 


Shipping: 

Shipping is free within the 48 continental U.S.A. 

We do Ship outside of 48 continental states but SHIPPING COSTS MORE. If you are in states such as Alaska, Guam, Hawaii, Puerto Rico, PO Box, APO FPO and other countries outside of the United States of America, please contact us for a shipping quote. 

**International buyers are responsible for ALL customs, duty, and import fees. NO EXCEPTIONS! ** 

Payment: 
We Accept paypal but ship only to confirmed addresses on paypal. PLEASE be sure your correct ship to address is on paypal when making a payment.