O2 Oxygen Sensor Spacer with 90 Degree Steel Adapter Check Engine Light Fix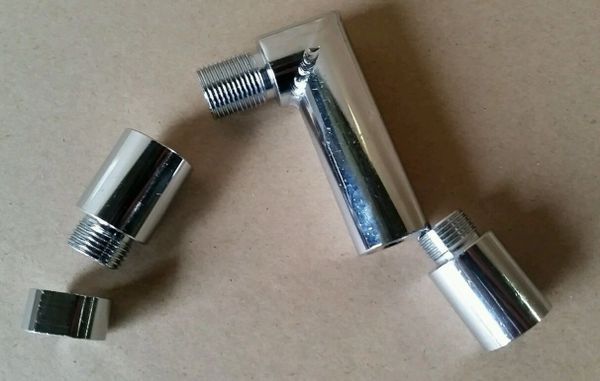 O2 Oxygen Sensor Spacer with 90 Degree Steel Adapter Check Engine Light Fix
New Oxygen Sensor (O2) sensor spacer with 90 Degree angle. This oxygen sensor spacer comes in a variety of sizes and has a potential for multiple end positions and functions.

WHY ARE THESE NEEDED? 
Normally the secondary oxygen sensors are the ones that cause the check engine light to come on. These are positioned after the converters and read the exhaust gas after it is filtered and heat is reduced through the converters. 

In some vehicles, This is the primary reason the check engine light comes on. This happens due to the fact that the secondary oxygen sensors are placed in direct path of the exhaust gas providing a higher heat reading. Running a vehicle while Leaving the light on will cause the computer to constantly try to make fuel adjustments in turn making the vehicle to run rough and waste a huge amount of fuel. 
These spacers remove the oxygen sensors from the direct path and replicate the conditions they would normally face when the healthy converter was in place fixing the issue and getting a smooth ride. 

WHAT YOU WILL RECEIVE: 
1 X O2 SENSOR SPACER (AS SHOWN IN THE PICTURES) 

SPECIFICATIONS: 
*Works With Any Deep M18-Threaded Oxygen Sensor 
*O2 sensor Threads Into 90-Degree Female Bend 
Professional installation is highly recommended as no Installation instruction are included. 

Please note: 
THERE IS A GOOD CHANCE THAT O2 SENSORS BURN OUT. IF YOU have your light on, be sure you have a good working sensor before you install the spacer. We do not recommend you drive with the good sensor for a long time without the spacer. 
When installing this item, check engine light needs to be cleared by resetting the ECU and clearing the codes. 

**this will only clear check engine light for good condition oxygen sensors, THESE WILL NOT GET THE LIGHT TO TURN OFF FOR UNRELATED ISSUES, SUCH AS crank sensor or other problems with the vehicle 
Please let us know if you have any other questions. 
  
Shipping: 

Shipping is free within the 48 continental U.S.A. 

We do Ship outside of 48 continental states but SHIPPING COSTS MORE. If you are in states such as Alaska, Guam, Hawaii, Puerto Rico, PO Box, APO FPO and other countries outside of the United States of America, please contact us for a shipping quote. 

**International buyers are responsible for ALL customs, duty, and import fees. NO EXCEPTIONS! ** 

Payment: 
We Accept paypal but ship only to confirmed addresses on paypal. PLEASE be sure your correct address is on paypal when making a payment.