RM-F STYLE HEADER FOR HONDA ACURA GSR 4-1 B16 B18 B20 WITH MEGAPHONE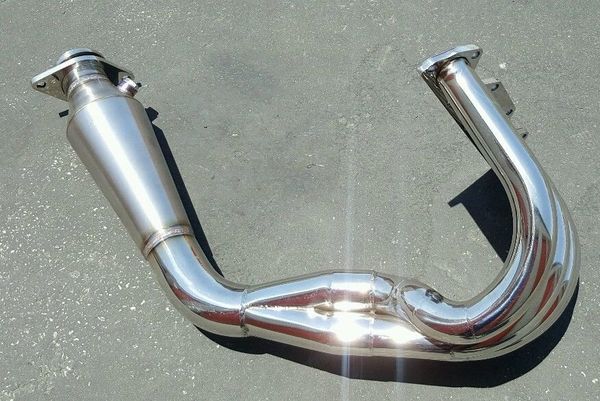 RM-F STYLE HEADER FOR HONDA ACURA GSR 4-1 B16 B18 B20 WITH MEGAPHONE
We are putting up for sale this is a Randy Monroe Style (
RM-F) header for the B series engines
. 
This is made to fit: 
*94-01 Acura Integra GSR/Type-R 
*99-00 Honda Civic Si 
*93-97 Honda Del Sol V-TEC 
*All Honda Acura Cars with B series engines (1.6L to stroked 2.2L B series) 

What you will be receiving: 
1 X NEW Header 
1 X NEW Gasket 


**please note: 
These are a Direct Bolt-On Installation but they use a final collector flange of 2.50". The flange is not included in this sale. Please check our other listings for the flange. 
*If you are installing these headers on an 88-91 Civic or 90-93 Acura Integra you will need to use the half size radiator. The factory crossmember may need slight modifications or use an aftermarket traction bar. 
* The transmission brace would need to be removed or swapped out for slimmer braces like the GS-R or the Acura LS brace 

DESCRIPTION: 

This header is as shown in the pictures. Feel free to compare. This header has been engineered to outperform other headers in the market and DELIVERING BETTER FITMENT. 
The design allows for maximum low end torque without sacrificing top end horsepower. 

Our header is a 1 piece design and may not clear A/C and power steering. 
***No oil pan "massaging" or banging required*** 

RESULTS WERE IMPRESSIVE: 
We have put this header on the dyno and have pulled 204whp from a stock B20 block ON PUMP GAS!! 91 OCTANE. With a Type r head with Blox A cams and a 70mm throttle body. 

Constructed from stainless steel material 
Header Specs: 
FLANGE: 0.38" 
PRIMARIES: 1.795" 
SECONDARIES: 1.8105" 
COLLECTOR: 2.3090 
FINAL COLLECTOR: 2.50" 

Please note that there is no flex on the header. It is highly recommended you have quality brand name motor mounts or install a flex pipe on your exhaust. 

Shipping: 

Shipping is free within the 48 continental U.S.A. 

We do Ship outside of 48 continental states but SHIPPING COSTS MORE. If you are in states such as Alaska, Guam, Hawaii, Puerto Rico, PO Box, APO FPO and other countries outside of the United States of America, please contact us for a shipping quote. 

**International buyers are responsible for ALL customs, duty, and import fees. NO EXCEPTIONS! ** 

Payment: 
We Accept paypal but ship only to confirmed addresses on paypal. PLEASE be sure your correct ship to address is on paypal when making a payment.