TRI-Y RACE HEADER FOR P10/P11 B13/B14/B15 NISSAN SENTRA SE-R SR20VE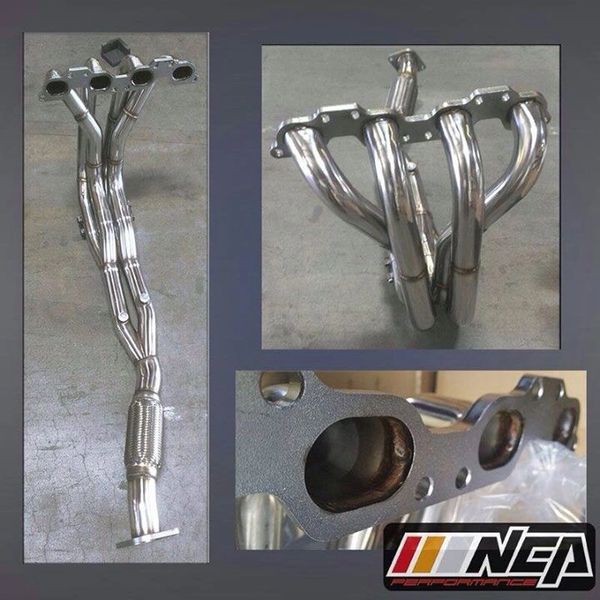 TRI-Y RACE HEADER FOR P10/P11 B13/B14/B15 NISSAN SENTRA SE-R SR20VE
We have a brand new item available for FWD SR20 enthusiasts. 

**please note: these headers are primarily designed to be used on the SR20VE engine, these headers can fit on the sr20de but the oil pan would have to be hammered a little bit, as well as the mods mentioned below. Please understand the sr20de will need more modification *** 

Tri y headers Made to fit. 

These are constructed from scratch out of stainless steel material, these are not Honda headers chopped up. These are custom made headers to ensure a direct bolt on is achieved and allows for maximum horsepower levels. We have been able to extract up to 12whp more in comparison to other popular headers in the market. 

These headers fit the: 
95-98 Nissan 200Sx with SR20VE 
91-93 Nissan NX with SR20VE 
91-01 Nissan Sentra with SR20VE 
90-02 Infinity G20 with SR20VE 

These are stepped headers with the initial port on the runner of the cylinder head is 1.65" 
The first step goes to: 1.78" 
The second step goes to: 1.87" 
And the final collector is 2.50" 

What you will receive: 
1 x new header set 
1 x set of gaskets and flange bolts 
1 x header wrap 
1 x zip ties for the header wrap. 

Please message us for any detailed questions 

Please note: 
*The front O2 sensor will need to be extended to the back portion 
*This header does not utilize an EGR 
*professional installation is recommended 
*Due to the diverse chassis applications on the Nissan models that use an sr20 engine, some minor massaging of the cross member may be necessary (this is not always the case) 
*the alternator belt will need to be changed 

Overall this is a custom header. 
------ Free shipping applies to the 48 contiguous United States only. If you are outside of that area, please contact us prior to purchase for a shipping quote.